23 November 2020
The face of Scottish hospitality is changing. From the Coronavirus to eco-innovations and global warming concerns, to new movements and changes in social interaction.
From how we live our daily lives to how we take our holidays, people want more assurances from their travel. However, hospitality provider options, and technologies within these establishments, are adapting. The hospitality industry is using new, creative ways to not only attract guests but keep them safe when visiting.
Here are 7 clever ways hotels are making use of technology and environmental awareness to welcome guests to their world.
1. Web stories
Web stories are a new way to create and share content on the web. They combine photos, videos, music, and text into one multimedia production. And they are responsive, meaning they look just as great on a desktop as they do on your phone.
It's something Google is at the forefront of rolling out. It takes inspiration from stories on Snapchat and Instagram, but web stories are permanent and are meant to be shared and embedded. They are being used by the hospitality industry as a way to immerse potential visitors into different cultures. You can have a feel for a hotel or city before you go.
For example, this web story talks about one person's week in Singapore. It brings the city to life with photos and videos. The web story looks great on both mobile and desktop. If you'd like to find out how web stories can help your business, get in touch.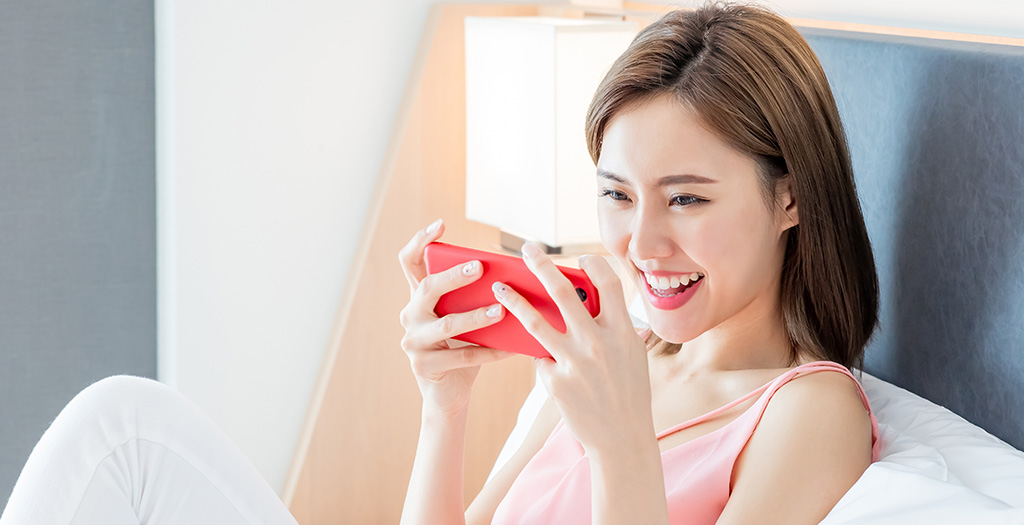 2. Wikifriends
Wikifriend is a German company that offers powerful software and hardware with artificial intelligence. Of particular interest to hotels has been their automatic temperature measuring product. This is important at the moment as it is a way to see if anyone has a fever. It can also detect if people are wearing their masks correctly and ensures social distancing is being adhered to. It's a smart hotel technology, and we love it! As well as offering a safety feature to your hotel, it offers a fun and interactive way of doing so too…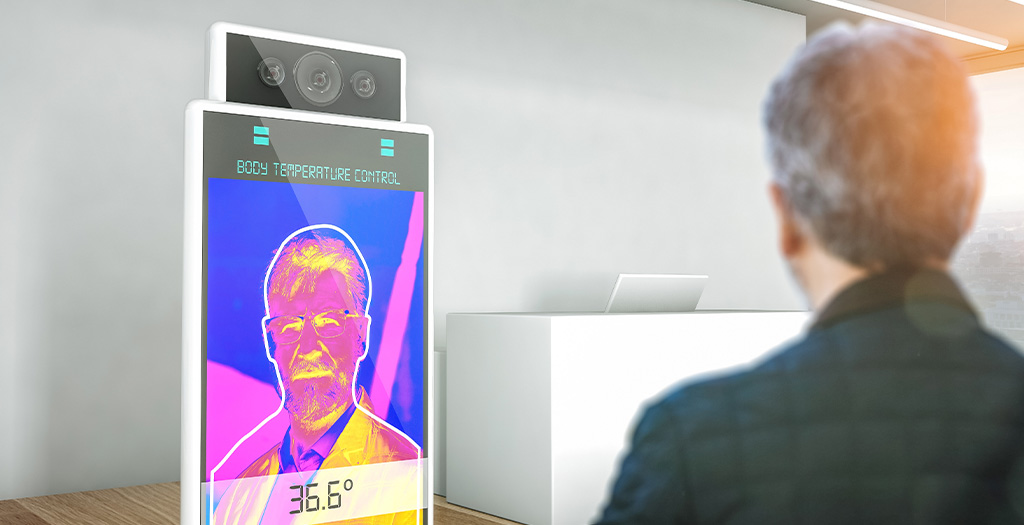 3. Alexa, turn up the heat
Many of us are embracing voice technology in our homes through Amazon Echos and Google Homes. Even if we don't fully trust intelligent speakers yet, voice assistants are on most people's phones, be it Siri on iPhones or Bixby on Samsungs. They are even on modern TVs!
Hotels are starting to learn how to use this technology to their benefit. Some hotels have an Amazon Echo in each room, allowing the guest to control lights, temperature and curtains with just their voice, avoiding any unnecessary contact. Soon, people will be able to connect their own accounts, bringing their selection of songs and audiobooks on holiday too.
4. Robotics
By reducing human touchpoints and unnecessary interaction, hotels can help keep their guests and staff safe from viruses. Robotics are a way forward here, as they allow hotels to maintain the same high standard guests expect whilst keeping them safe.
For example, this robotic table delivery service takes food and drink to restaurant tables. It's an elegant solution to doing something important, but which doesn't need human interaction.


5. Hotel facial recognition
We're used to unlocking our phones with just our faces, but what if they could do so much more?
Some hotels in China are already using guest's faces for check-in. This reduces queues. It also means if you don't need any help with checking in, you don't need to speak to anyone and risk infection.
6. Google Hotel Tours
Guests like to see in advance what a hotel looks like. Previously they had to rely on photographs, but these rarely gave a true feel of a hotel. With Google Hotel Tours, people can now walk around a hotel as if they are there. It's like Google Streetview, but indoors.
Of course, it's important to make sure people can find these tours, as they really help with conversion into sales. Speak to us if you'd like to understand some more and help guide potential guests to them.

7. Hotel apps
An easy way to ensure people have access to all the information and help they need is through an app. This can be downloaded in advance of arrival.

It can be used to check in and out, order food, room service and anything else you might require. Marriott Hotels already have a well-established mobile app for booking and check in.
It can also work as a room lock. Technology in hotel rooms is being welcomed across the world.
And here's something you might not have realised. Did you know that the dirtiest thing in your hotel room is actually your TV remote? Now the pandemic has made all accommodation providers go beyond their normal level of cleanliness, but it is still a worry for some.
Chains like Hilton are addressing this matter. Using connected technology, they are allowing you to control your TV as well as room temperature and curtains from your own mobile through an app.
We think that apps such as these will become more popular and common as the years progress.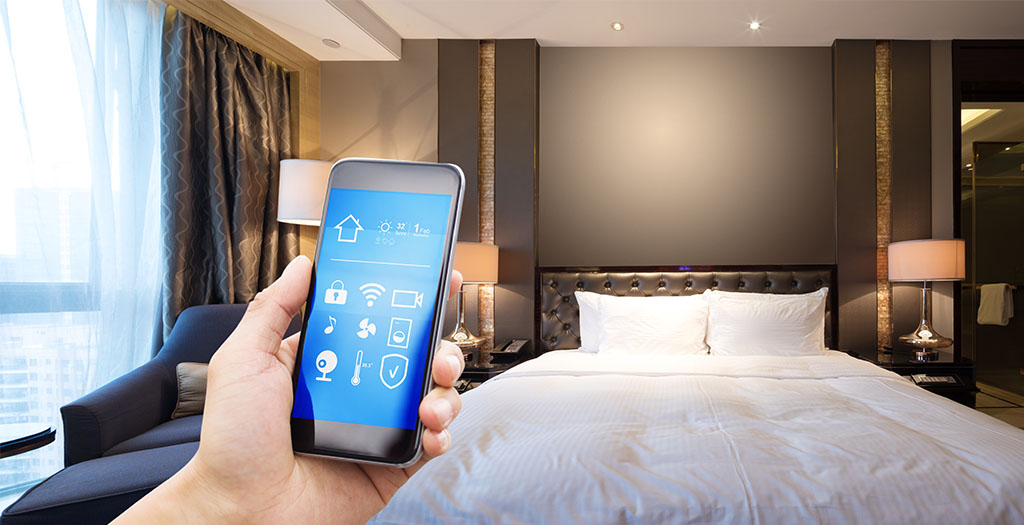 Technology to keep us safe and happy
Hotel technology is designed to make our lives easier. With social distancing now commonplace, it can also help keep us safe. We're keen to find out more about technology in the hospitality industry. Let us know of any advancements that you have come across.