23 November 2020
So, 2020 was the year that everyone's lives got turned upside down with coronavirus. As restrictions were put in place, the hospitality industry had to be smart and move fast in order to survive. Hotel innovations and adaptations continue to adapt in order to keep guests and staff safe, as well as to keep people wanting to travel as restrictions continue to fluctuate.
The quick and creative thinking of some industry leaders to keep holiday businesses alive has been impressive. Innovation in the hospitality industry has had to develop quickly, as hotels throughout this pandemic have seen their visitor numbers rapidly decline. So what have these inspirational hospitality providers done in order to bring guests back into a safe environment?
Here are some of the best pieces of innovation and adaptation we've seen so far through the coronavirus pandemic from innovation within the hospitality sector. If you have seen others that have impressed you, be sure to leave a comment below or on our Facebook page.
1. Contactless…everything
Loch Lomond Waterfront offers luxury self-catering lodges on the banks of one of Scotland's most beautiful lochs. So in order to minimise customer interaction, and so reduce the risk of passing on any illness, they reduced the amount of person to person contact required to virtually nothing.
How did they do this? Contactless check-in and contactless check-out. Everything guests needed to find their lodge, get in, and get settled was emailed in advance. Any help is only ever an email or phone call away. In short, with 18 acres of open space for visitors to enjoy and remain socially distant from each other, Loch Lomond Waterfront has seen business boom this year. They also keep their holiday resort completely enclosed with an electric gated entrance, so guests can holiday away from others in the safety of their own little bubble.
Order alcohol, shopping, games, and DVDs directly to your lodge, without the need for human interaction. Plus every single touchpoint is disinfected as the thorough cleaning team departs your lodge to ensure all is sanitary for your arrival.
2. Make Christmas Great Again
As we head towards the end of the year, Christmas plans are in disarray. Our normal traditions will be turned on their heads. However, one hotel in the north of Scotland wants to ensure the magic stays alive and has created an innovative plan to do so.
Mackays Hotel in Wick is adapting to restrictions by offering guests an 'Enchanted Forrest' socially distanced dining experience. For example, this event will:
enable social distancing
allow groups of people to have their own individual socially distanced tables for their outing
permit guests can book their tables at any time to suit themselves
ensure guests can stay in their 'areas' after their meal and enjoy each other's company.
So by having somewhere that friends and families can come together in a safe and socially-distant way, Mackays Hotel is ensuring the magic of Christmas continues to thrive in 2020.

3. Enhancing everyone's experience
Every hotel must ensure that guests have safe holidays that are pleasurable and rewarding. Given government restrictions, this has proven to be a challenge to overcome for hotels across Scotland. Some innovative thinking by the Kingsmills Hotel Group, behind their two hotels the Kingsmills Hotel and Ness Walk in Inverness.
Both hotels have created truly beautiful outdoor spaces for dining. Decked with hay bales, fairy lights, and whisky barrels, it makes eating out a treat. Not to mention their fabulous food! These outdoor socially distanced restaurants are heated and open to non-guests also. Meaning everyone in the area can enjoy the hotels' wonderful hospitality.
During lockdown, Ness Walk also set up their Riverside Bar for guests to continue dining and enjoying their drinks in a socially distant manner. But this bar also offers an added experience to hotel guests, who now get to sit by the side of the River Ness, enjoy gourmet hotdogs and watch the world go by. Making the best of the worst times is a way of thinking that will only help the hospitality industry in the future.
They also brought in mist machines, to kill all germs indoors. And room seals, so you can be assured no-one has entered your room since it was disinfected. The lengths these two hotels have gone to ensuring guest and staff safety are commendable.
4. Foot handles
Sometimes, the simplest ideas are the best. We've all had to adapt to not touching things at the moment, to avoid passing on any illness. This includes the use of door handles.
Kingshouse Hotel in Glencoe uses an innovative solution that can be used well after the pandemic has ended. They have created branded foot handles for the bottom of their doors, reducing touchpoints for guests. This way, you can open a door without having to worry about getting your hands dirty. A simple pull, or push, with your foot, is all that's required!
This innovative hotel is also preparing outdoor dining pods so guests can continue to enjoy the majestic views of the Scottish glens surrounding. And with the whole of the Scottish Highlands on their doorstep, social distancing around these parts isn't too difficult…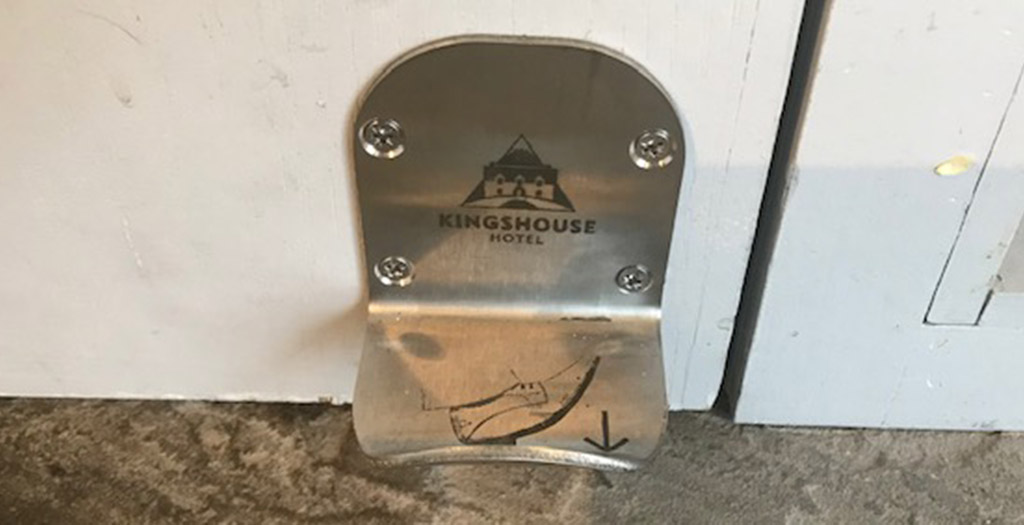 5. An ultimate night in
Innovation can also come from thoughts on how to entertain guests when they arrive. But with lockdown, going out to eat and spend the day in and out of shops is often not an option.
The Dunstane Houses in Edinburgh have created imaginative ways to spend time in their luxury Edinburgh hotels. For example, fancy some indoor glamping? If you are holidaying with kids, then having a tent set up in the room is obviously going to be amazing. With an adventurer's backpack and plenty of activities to discover this is a great way to ensure the kids don't drive you up the walls!
For the grown-ups, they understand your problems of staying in the same house for months on end. Chat probably is a combination of "Did you sleep well?", "What do you want for lunch?" "What do you want for dinner" and, at 8:30pm, "Shall we just go to bed?"
So they've come up with the ultimate night in package with gin, pre-and post-dinner nibbles, dinner, bed and breakfast, and as much Netflix as you can take. All in a luxury room with free room service all day long.
During lockdown, they even offered a similar service; if working from home was proving to be not as enjoyable as you thought it would be (thanks, screaming kids). Take over a room for a day or a week and take full advantage of everything a luxury hotel offers. Now that's giving the customer what they need before they even knew they needed it.
The changing face of hotels
We've been delighted to see the hospitality industry, which was so devastated during the first lockdown in March 2020, to get back on its feet. So we've seen that it is hotels, lodges, and guest houses that have adapted and innovated that are starting to read the rewards for their hard work.
To sum up, it's only through further change, hotel innovations, and working within the confines of government restrictions that the industry can continue to grow and thrive. We look forward to getting back to our usual way of life and holidaying in Scotland again soon!